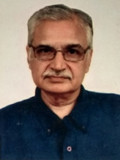 Dilip Chopra
Managing Director
Dilip Chopra entered Auto Dealership business in 1970, in Mumbai and has more than 4 decades of experience in the automobile industry. His father, Dharam Vir Chopra, was a pioneer figure in the transport trade, in Mumbai, since 1939.
After completing his studies in business management, attended training in Fiat, Italy, Perkins – U.K & Peugeot, France. Started coach building activity at Mumbai in 1975 and, later shifted the business to Belgaum, Karnataka in 1982. He has visited various automobile plants in Europe and China. In his earlier years Mr. Chopra was a keen car rallyist, and was known for SAB bodies built on Premier Driveaway Chassis.
Under his stewardship, Starline has the capability of simultaneously building a mixed product range of bodies from Small Van to Double Decker.
Contact Details:
+91-9900216388
dilipdchopra@starlineautobodies.com
"Quality Is Never an Accident. It is always the result of Continuous Intelligent Effort."